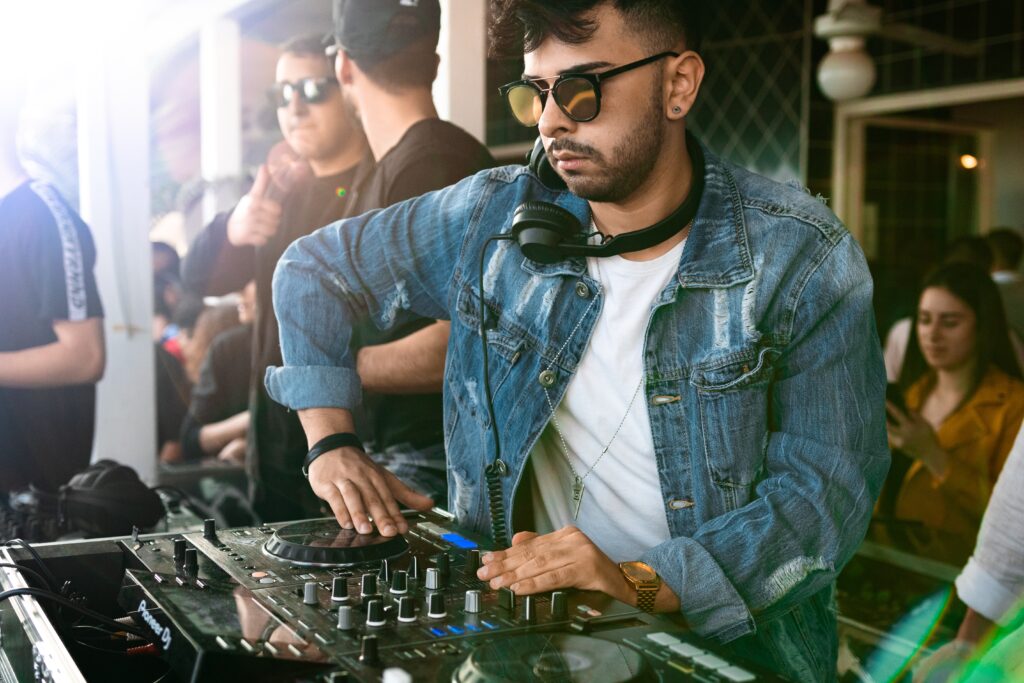 Tax Return for DJ
People are always throwing parties, whether it be for a birthday, a wedding, or just because they feel like having some fun. That means there's always lots of demand for DJs to hire, so becoming a freelance DJ isn't as hard as you'd think.
DJ skills
If you know a lot about music, becoming a freelance DJ shouldn't be too difficult. You just need to:
Love music

Be able to create a lively, party atmosphere

Have a good ear for music

Be able to choose the right music for the right situation
Learning to be a great DJ
Most of the great DJs are self-taught, motivated to learn by their love of music. Even if you don't know anything about DJ'ing, there are plenty of places you can go to learn. The internet is a great place to start, with plenty of guides online, and tuition videos on YouTube. You should take an interest in other DJs too. Watch them and try to work out what makes them a good DJ, and incorporate their best qualities into your own performances, but taking care to make it your own rather than just copying. If you'd like some more hands-on teaching, there are plenty of courses aimed at teaching and improving DJ skills. Get to know some DJs personally so you can take their advice, and invest in decent equipment from the start so you can perform at your best while looking professional.
Practice makes perfect
Just like anything else you want to get good at, becoming a great DJ takes a lot of practice. So spend as much of your spare time practising your DJ skills as you can. It takes a lot of work, but if DJ'ing is something you really enjoy, it won't actually feel like work. The more practice you put in, the tighter your DJ shows will be, and the less likely you are to ruin somebody's wedding party by putting on a bad show.
Different types of DJ events
There are a wide range of events you could play as a freelance DJ, and they all require you to think about your audience. A child's party will require different music than an adult's party, and a wedding will require different music than a funeral. Get to know a wide variety of music genres so you can choose the right music for the right event.
It's important to remember that as a freelance DJ, you need to play music your audience will like, rather than only playing music that fits your personal tastes.
How beginner freelance DJs advertise themselves
As a freelance DJ, many of your clients will come to you through word of mouth, where you'll DJ for an event and the party hosts will tell their friends how good you were.
This can be difficult when you are starting out, since you won't have done many performances before. You can start off by asking your friends if you can play at their parties, probably for free, so you can practise DJ'ing in front of people. There are, however, other ways for a beginner freelancer to advertise themselves:
Get on Facebook, Twitter and Instagram and other social media sites: Everybody's on social media these days, so there's potential to interest a lot of people in your DJ service.

Set up a website: It'll make you look professional and will act as a shop window where people can learn about your services, prices, and contact details.

Place adverts: This doesn't have to be expensive. You can place adverts in local newspapers or local shop windows, or even place free adverts on places like Gumtree.
How much should a freelance DJ charge?
You can expect to charge around £300-400 on a 5-hour weekend party, and a little less on a weeknight.
Tax Return for DJ | Accounting as a freelance DJ
There are various benefits to freelancing as a DJ, from the freedom and flexibility to work with a variety of individuals and businesses to more take-home pay. But there is one downside – accounting.
As a full-time employee, your tax is usually taken care of on your behalf in the form of PAYE.
As a freelancer you'll have to keep a range of financial records and then prepare and pay a Self-Assessment tax return at the end of each business year. Accountancy can be very confusing and can distract you from your DJ'ing.
Tax Return for DJ | Getting tax and accountancy advice
With most accountants, you'll pay them to do your year-end accounts, and then they'll forget about you until the next year. But for your business to be run smoothly and successfully, you'll need advice on tax and accountancy throughout the year, especially in the early days.
Tax Return for DJ | Citi Accounts is different
Citi Accounts provides an affordable and specialist accountancy service designed just for freelancers. Throughout the year we'll be on hand to give you any tax and accountancy advice you might need, including things like:
Take-home pay

Which VAT scheme to register for

Expenses

Tax allowances

Choosing between Sole trader or limited company?

Running your business in a tax-efficient way
We charge for our accountancy services in a clear and simple way, which means you'll never receive an unexpected bill, and you can get in touch for advice whenever you want without the worry of being charged a fortune like you would with many other accountants.